Ouverture d'un compte de Moneybookers
Moneybookers est un service de portefeuilleen ligne rapide et fiable. Les joueurs peuvent ouvrir un compte, et déposer par l'intermédiaire du virement bancaire ou de la carte de crédit/débit.
Nous recommandons Moneybookers comme le choix des joueurs de Paris Vegas Casino pour des paiements en ligne fiables et dignes de confiance. C'est instantané, ainsi vous pouvez défier vos amis à un jeu à SlotsMagic en quelques minutes!
It is very easy to open an account with Moneybookers. Just click this link to open one and select "Sign up now".
Veuillez noter que le site est en plusieurs langues.
For English please select this link.
For Greek please select this link.
We have created a step by step guide to open a Moneybookers account if you need the extra help. Please click here.
Apres que avoir ouvert et alimenté votre compte Moneybookers , vous pourrez immédiatement déposer sur votre compte de SlotsMagic.com et commencer à jouer tout de suite.
If you need help with depositing then you can access their FAQ's (Frequently Asked Questions) and then select "Deposit".
oneybookers a un service clientèle téléphonique : +44 870 383 0232
Ils ont également un service "messages" en ligne qui est également utile.
Le montant minimum pour un dépôt avec Moneybookers est $20, quant au retrait, il n'y a pas de montant limité!
Il n'y a lorsque vous utilisez Moneybookers pour déposer ou retirer dans notre casino.
Instructions
Il prend juste quatre mesures très faciles pour ouvrir un compte avec Moneybookers. Les débuts en allant à www.moneybookers.com/app/ et choisis "S'inscrivent maintenant".
Type de compte
Verification de compte
Informations personnelles
Confirmation
Moneybookers exige de l'information suivante d'assurer votre identité.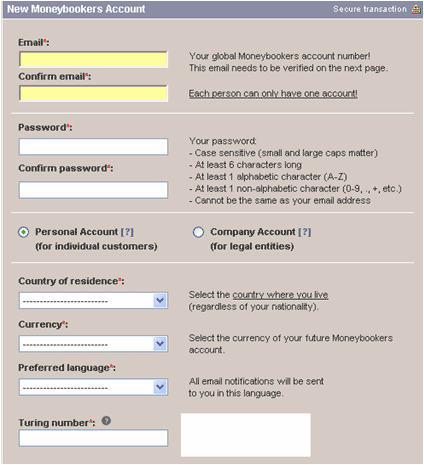 Ainsi que vous avez rempli cette page un email de vérification contenant un lien sera envoyé à votre email address.
Vérifiez votre email et cliquez sur simplement dessus le lien pour vérifier votre adresse d'email et puis pour continuer le procédé le registration.
Ecrivez après votre détailles personnelles complète.
Ainsi que vous avez complété vos détails cliquent sur "Prochaine".
Vous recevrez alors la confirmation de vos détails.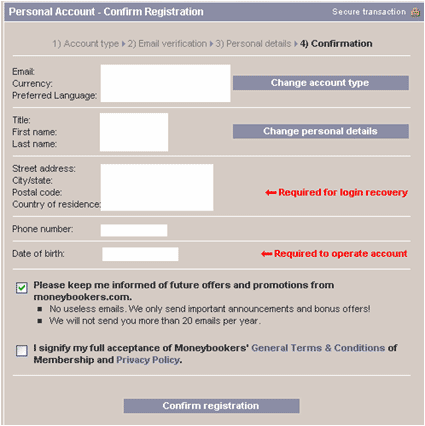 Cliquez la boîte acceptant les Termes et conditions généraux et cliquez sur "Confirmez l'Enregistrement". Vous avez maintenant réussi à ouvrir votre compte de Moneybookers.